In 2012, the MOOC emerged as a new mode of learning that disrupted the "sage on stage" model that had flourished in academic institutions for centuries. The year of the MOOC, as it came to be known, marked a new era in business education.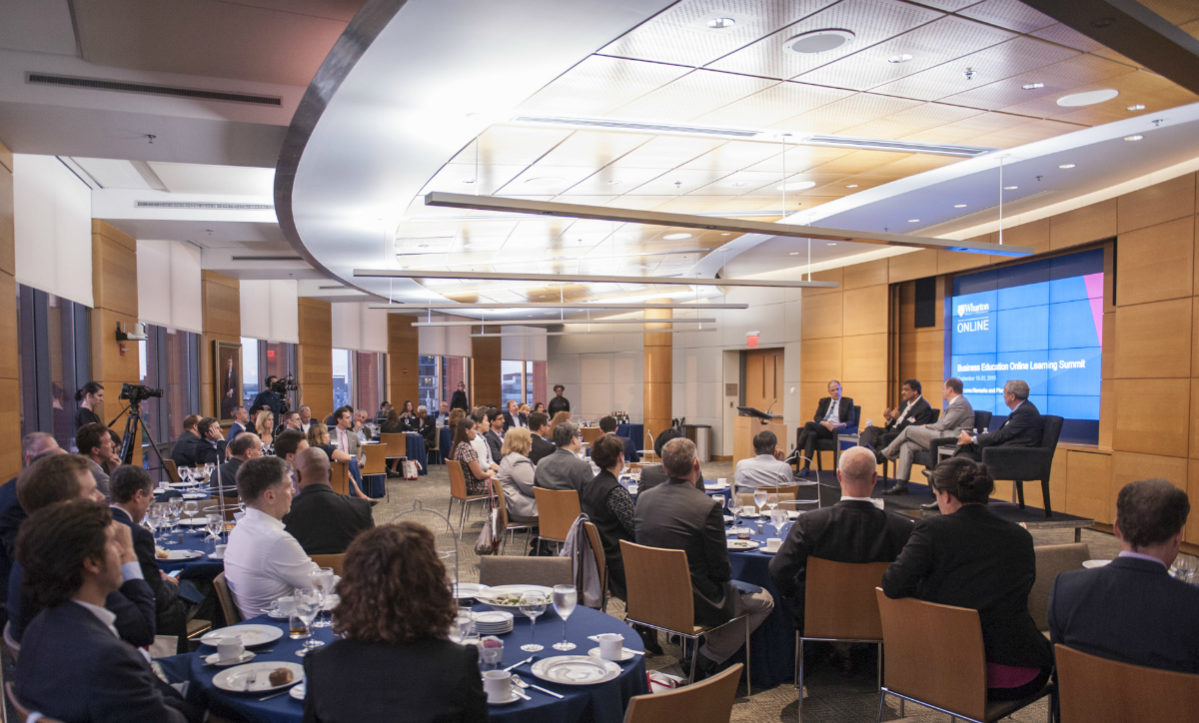 Since then, online learning has revolutionized the traditional top-down, university-driven degree approach to business education. "We are all working and learning together in ways we could not have imagined five or even three years ago," said Anne Trumbore, Senior Director of Wharton Online.
That's why Wharton's Vice Dean of Executive Education Jagmohan Raju wanted to bring together academic leaders in business and senior leaders in industry from around the world to begin a true interinstitutional discourse around the transformation of business education.
Hailing from four continents, 25 institutions, 26 corporations, and the U.S. Department of Education, a diverse crowd gathered in Huntsman Hall on the University of Pennsylvania's campus for the inaugural Business Education Online Learning Summit on September 19-20.
"Our ambition was to bring together the people who are transforming online business education — business schools as content producers, online companies that are both technology platforms and distribution systems, and companies that want to invest in continuous professional development for their people," said Geoff Garrett, Dean of the Wharton School.
Through a mix of facilitated conversations and plenary sessions, panelists and attendees discussed emerging opportunities for on-campus and on-the-job education, how online learning is proliferating historically significant shifts in traditional business education, and the relevance of business schools in this new credentialing economy.
"Every industry is being disrupted as we speak. As technology comes to education, it's really important for us to be ahead of the curve so that we can evolve and ideally transform ourselves to keep pace with where technology's taking us," said edX CEO Anant Agarwal. "The whole education industry is at a crossroads so it's really important to have this conversation right now."
Here are the 5 most impactful takeaways:
1. Online learning has allowed institutions to increase their reach and have a greater social impact by democratizing access to business education.
Coursera CEO Rick Levin considers online learning an audience extender rather than a disrupter. Nearly 80 percent of Coursera learners are over college age, and a significant number have never set foot in a college classroom. Online learning will no doubt play a crucial role in delivering higher education to the millions of new students who will come from emerging economies over the next decade.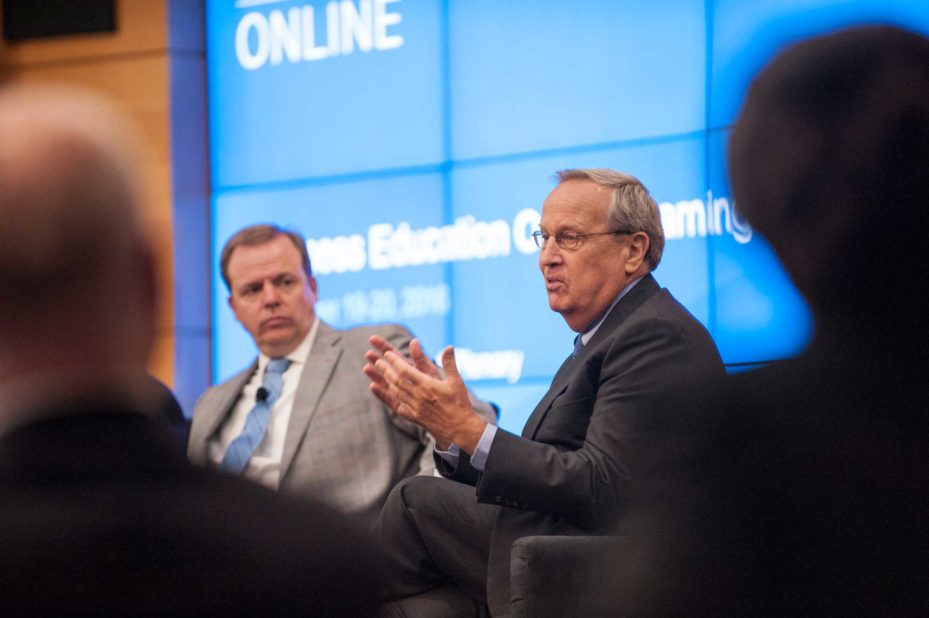 "Online education provides a truly unique opportunity for business schools to have a greater impact on the world, to stem the weakening demand for on-site MBA programs, and to reach audiences that they don't currently reach," Levin said.
"There's a huge demand for high-quality business education as we've seen with Coursera. Schools like Wharton — Wharton, in particular — have been in the vanguard of discovering that if you put quality content online at affordable prices then the whole world responds."
Trumbore agrees that MOOCs have become a powerful tool to provide professional education and lifelong learning for a population that has in most part never had access to it before.
"We feel there is a social mission to what we're doing," she said. "We're enabling people to get ahead at work … at this price point, you can get the skills you need, you can make something of yourself, and be in control of your own career trajectory."
Initially, many universities were concerned about potential dilution of brand with online learning. But employing methods like virtual proctoring, hand-grading integrated with peer assessment, and randomized problem banks has enabled them to ensure the quality and integrity of the education they're providing online is up to par with their on-campus offerings.
2. Power is shifting from institutions that provide bundled degrees to consumers who assemble their own portfolio of credentials and skills to get the jobs they want.
"One fascinating byproduct of online learning is the range of hybrid credentials that are bubbling up — not degrees, but credentials valued in the marketplace," Dean Garrett said. "At our conference, the edX CEO Anant Agarwal announced one interesting example: a major expansion of "micromasters" in topics ranging from artificial intelligence to project management to computer science."
The new micromaster credential, a series of online classes that translate to one-quarter to one-half of a master's degree, creates a pathway to credit on campus. It also offers institutions a novel way to identify promising graduate degree candidates.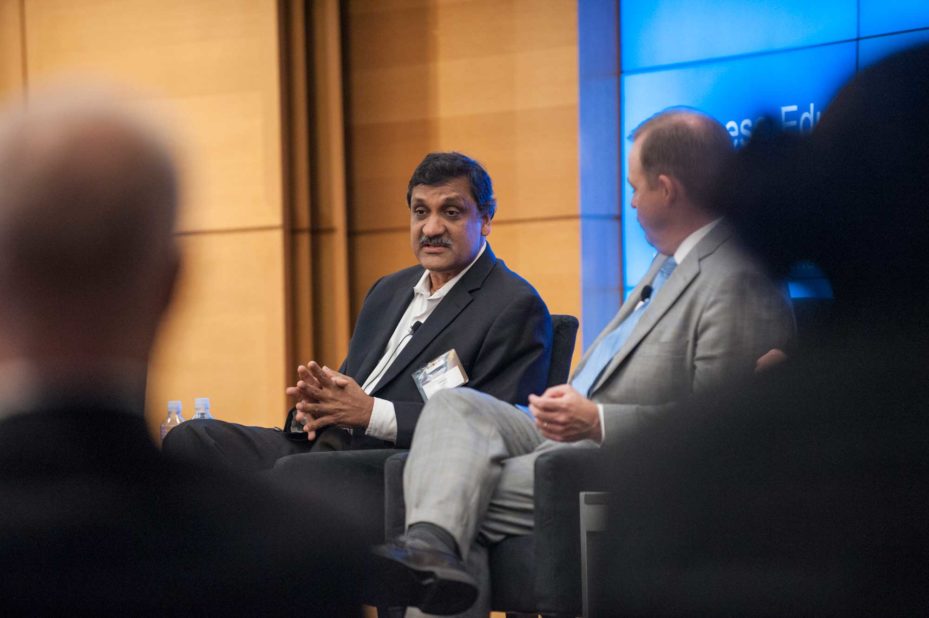 "This is the future," Agarwal said. "You offer a phenomenal product online and then it becomes an inverted admissions funnel, where you take the top people, they apply to campus, and they complete the master's on campus, should they want to do that."
As people continue to change jobs and have to rescale in a constantly changing job market, they are going to need different types of learning at different phases of their career. The way that business schools deliver education and credentialing has changed and will continue to change.
"As we unbundle the MBA and how we deliver it, there may be an opportunity to increase its value," said Burning Glass CEO Michael Siegelman.
Hybrid jobs — those that ask people to merge multiple sets of skills, particularly tech savviness with business acumen — are among the most valuable, fastest growing opportunities in the market.
To meet these needs, consumers are piecing together non-degree credentials, professional certifications, Coursera specializations, micromasters, and stackable degree components to create their own customized educational packages.
3. The MBA degree isn't going away anytime soon. Alternative credentials have not been able to establish the same currency as the MBA in the job market yet.
Today's consumer base in higher education is much more skeptical. They're looking for specific outcomes and metrics to communicate the value and back up the price of education.
Rather than making a significant investment of time and money in advanced degrees, more consumers are starting to combine their bachelor's degree with non-degree credentials and professional certifications.
"Credentials seem to be catching on as a new way of certifying competency in the labor market," Levin said. Coursera certifications are now the second most cited on LinkedIn (Microsoft credentialing, which has been around for 35 years, is the first).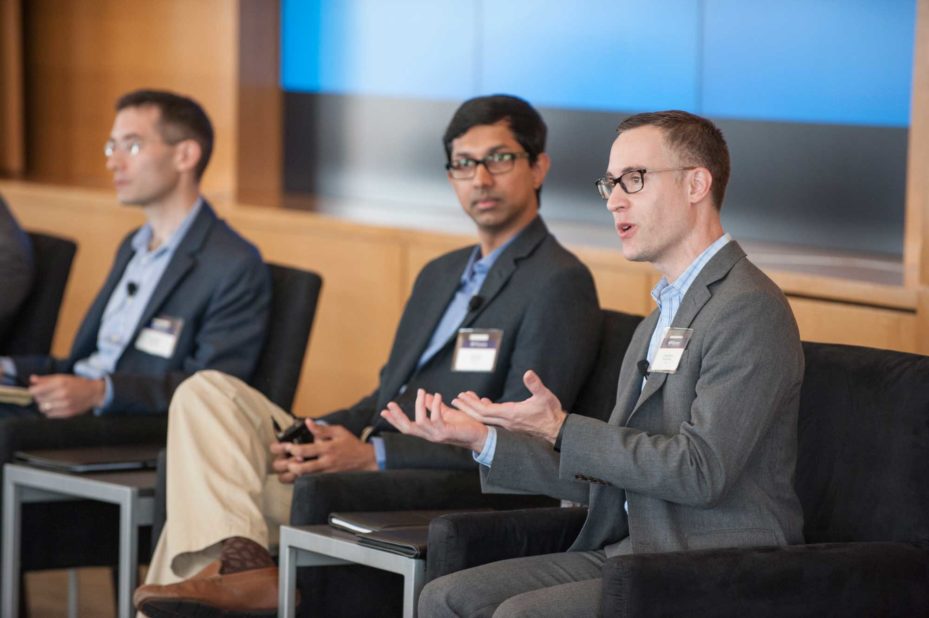 These credentials offer job seekers a supply signal other than their resume to show that they have a particular skill. "You should be able to get the same value out of your educational credentials that you do out of your driver's license," said Jonathan Finkelstein, Founder and CEO of Credly. "You should be able to flash it at someone at a car rental desk and be able to drive off the lot without being asked to take another driver's exam."
While these new non-degree credentials and professional certifications offer a means of acquiring specific skill sets and a pathway to career advancement, they haven't yet established the same currency as an MBA.
"You're comparing apples and oranges between an MBA and one of these credentials," said Wally Hopp, Associate Dean for Learning Design at the University of Michigan's Ross School of Business. "One's measured in an admissions process and the other is measuring learning outcomes."
"The question is whether measurement of these learning outcomes will become credible enough to place value on these credentials," he said.
4. The B-to-B market in higher education is growing as collaborations between academia and industry are needed to fill the skills gap in the job market.
"In the past 4 years, we've had a lot of experimentation in the B-to-C space. I think the next two years belong to B-to-B experimentations," Agarwal said. "There's a big skills gap out there and the only way we can bridge that gap is by having conversations between academia and industry to make sure that there's a match between the two."
Those experimentations have already begun in the form of partnerships and collaborations between academic institutions, technology providers, corporations, and government agencies.
Public institutions like Boise State have formed new collaborations with elite business schools like Harvard to bring HBX's online business fundamentals program to Idaho students and the business community.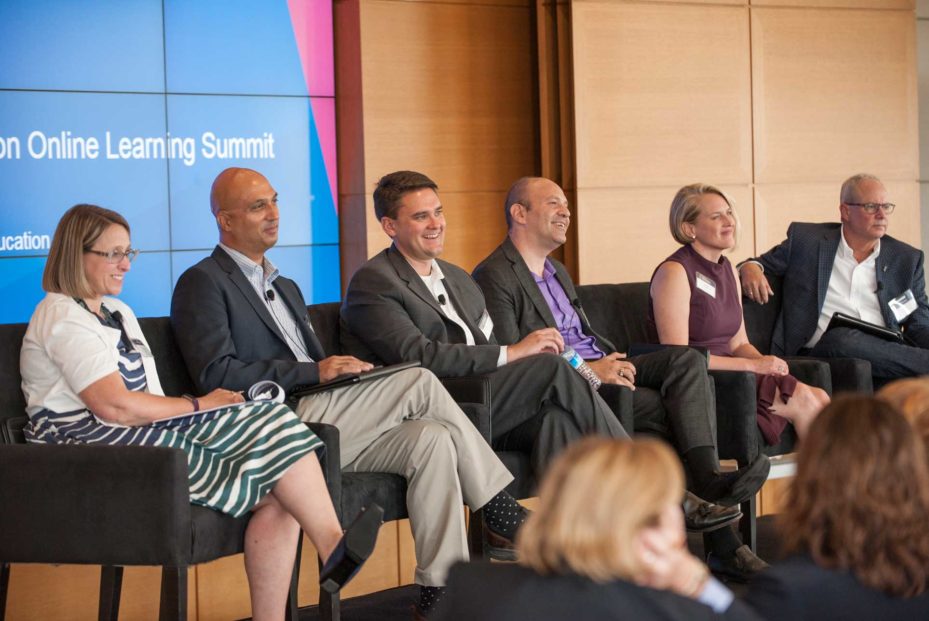 The Starbucks College Achievement Plan has given Starbucks employees the opportunity to earn their bachelor's degree with full-tuition coverage all four years through Arizona State's online degree program.
In partnership with Lockheed Martin Saudi Arabia, the MiSK Foundation, and King Abdullah Economic City, Babson Global launched the Prince Mohammad bin Salman College for Management and Entrepreneurship to prepare students in Saudi Arabia for skilled positions in the public and private sector.
Spending $30 million on employee tuition reimbursement each year, AT&T has offered multiple pathways to higher education for its employees — including a joint venture with Udacity to provide a microcredential called a nanodegree and partnerships with Udacity, Georgia Tech, and Notre Dame to provide online graduate degrees in computer science and data science.
"We're going to have to build the bridge from business school to business," said John Palmer, AT&T's Chief Learning Officer. "And (we need to) make sure that it's a lot more cohesive than it is today so that those degrees add even more value than they have in the past and can have a longer life, knowing how the marketplace is transforming every day."
5. The future of business education is a hybrid of technology-enabled learning and face-to-face instruction.
"The 'Elephant in the Room' is that we are all discussing online but we are sitting together in person," said Raju, referencing the title of the plenary discussion on executive education. "Why do we feel the need to sit together in person and not just connect on LinkedIn?"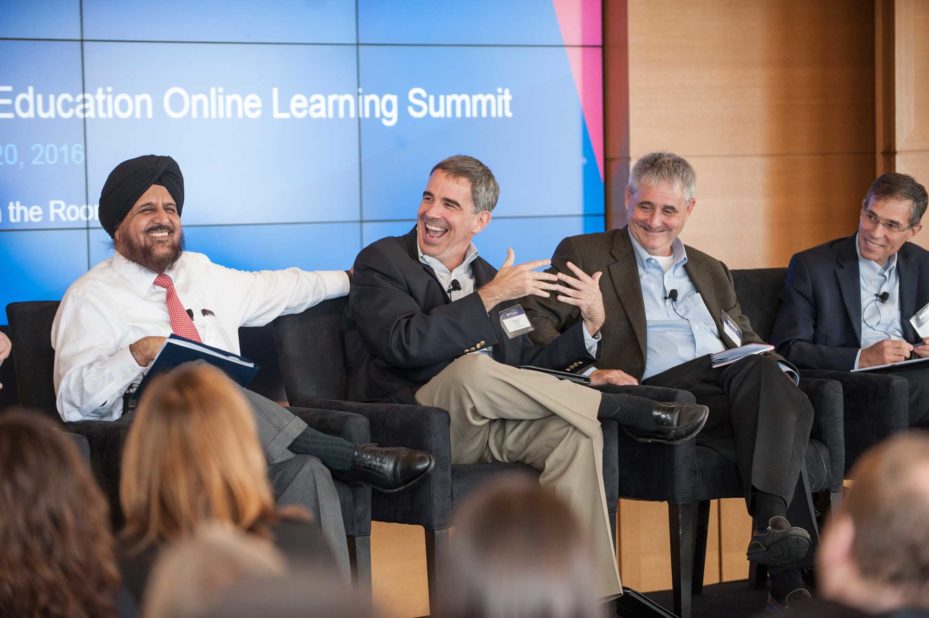 The answer for him is that online learning is not a substitute for face-to-face interaction, it's complementary. It's not a case of online vs. on-campus but rather how the two will fit together.
"(Technology) is not only causing us to get out of our comfort zone in the online space, it's actually changing how we think about the way we interact and deliver content even in our face-to-face classroom," said Jeffrey Brown, Dean of the College of Business at the University of Illinois.
Many institutions are using online learning to raise the bar on campus. In terms of professional development, it's given many faculty members a chance to innovate their approach to teaching. The online forum allows them to try new pedagogies and technologies to determine how they might work best for students, and they don't have to wait months for course evaluations to see what works and what doesn't.
This blended approach is also enabling institutions to reach new markets in executive education with a range of high-touch and low-touch options that can be adapted to meet the user's needs. "We are in the business of just-in-time learning, a lot more than just-in-case learning, and that business is going to grow like crazy as we move forward," Raju said.
Corporations will likely continue to invest in high-ticket, face-to-face programs for top of the house executives, while online learning opens to the door to cost-effective, high-quality programming for middle management and employees that provides flexibility and measurable outcomes.
To Be Continued…
What does the future of business education look like?
One attendee's take away from the Summit: "Online, flexible, microcredentialed, global, interdisciplinary."
Some panelists predicted it will move to a completely mobile format so consumers can learn anywhere they want without being tethered to a laptop or wifi. Another suggested virtual reality could create an immersive learning experience where a pair of Oculus glasses could transport learners to Shanghai for their online negotiations class.
Whatever the next big development happens to be, Palmer is sure that the learner will be the winner. "(Institutions and corporations) are going to continue to partner and continue to adapt to make learning effortless, utilizing technologies, mobile platforms, and the online space," he said.
Wharton is already excited to continue the conversation about what that will look like at the second annual Business Education Online Learning Summit next year.
Editor's note: This post originally appeared as a featured story on Wharton News.  View the original post here.